Nobody Leaves Mid-Hudson is a grassroots organization empowering the low-income population of Poughkeepsie, NY to keep their lights on.
Approximately, 295,797 New York residential customers had their utility service disconnected for non-payment in 2014-2015. In the first 14 months of its utility justice work, Nobody Leaves prevented or reversed shut-offs for 48 households through legal rights education and intervention.
Working in accordance with the New York Home Energy Fair Practices Act (HEFPA) and existing legal frameworks, Nobody Leaves has successfully brought voices of underserved community members to public forums.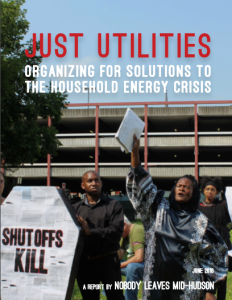 Nobody Leaves Mid-Hudson recently published their full report Just Utilities: Organizing for Solutions to the Household Energy Crisis. This report analyzes the factors contributing to energy insecurity and proposes corresponding policy changes.
You can read their full report here and follow their story on Facebook and Twitter.